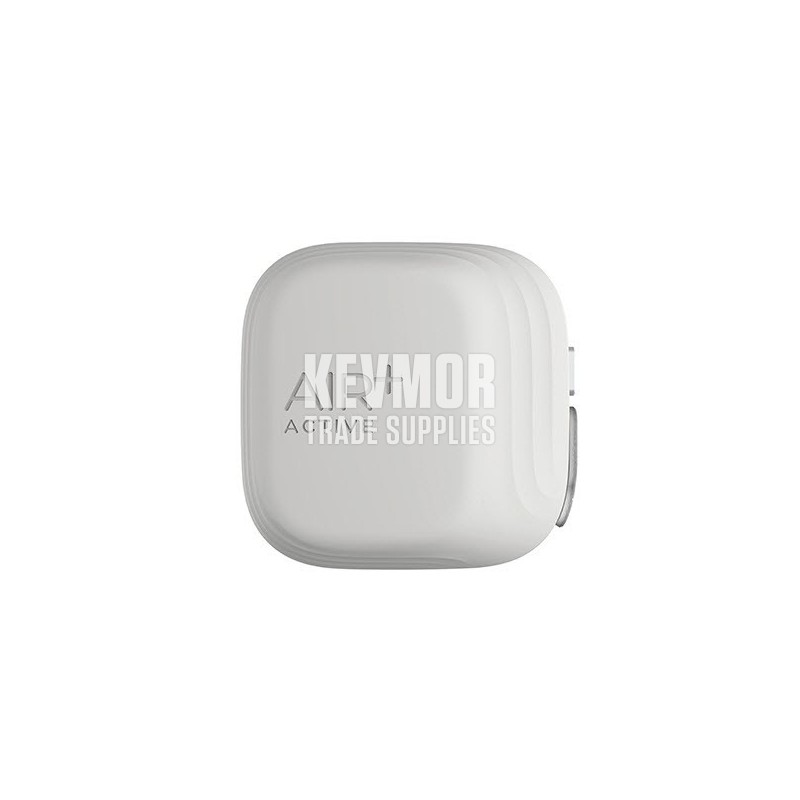  
AIR+ Active Ventilator APV
GST excl.
($59.98 GST incl.)
AIR+ Active Ventilator to suit Air+ Mask
This AIR+ Ventilator Package Includes:
1 x APV Air+ Active Ventilator
1 x Micro USB Cable
ONLY FITS THE AIR+ SMART MASK ( SOLD SEPERATELY), NON REFUNDABLE, NON RETURNABLE
Air+ Active Ventilator APV to suit Air+ Mask
AIR+ Ventilator Package Includes:
1 x APV Air+ Active Ventilator
1 x Micro USB Cable
ONLY FITS THE AIR+ SMART MASK ( SOLD SEPERATELY), NON REFUNDABLE, NON RETURNABLE
This AIR+ Active Ventilator paired with the Disposable P2 Mask (sold separately) by the same maker makes this the first "smart fan" that attaches to a protective mask in the world.
Benefits include the extraction of Co2 as well as a drop in temperature inside the mask, and NO MORE WET MASK.
---
The World's First Of Its Kind
The particulate respirator created with the face mask paired with this AIR+ smart exhalation active ventilator is the first of its kind.
Say goodbye to wet dust masks for good...
AIR+ is the world's first disposable mask (sold separately) with the ability to attach a rechargeable ventilator, which is easily attached and extracts moisture, heat, and CO2 from the mask. Suitable for Heavy Duty Industrial, Workshop, Mining, Construction, Tiling, Timber Work, Cement Chasing & Grinding and many more industries.
The disposable mask is sold separately and can be used on its own. But this rechargeable active ventilator makes it truly special. Never deal with foggy glasses or safety goggles while working again.
Some key unique features include its ability to…
Extract moisture
Extract heat
Extract CO2
USAGES
Heavy Duty Industrial work
Workshops that require dust masks
Face masks for construction
Timber work
Cement chasing
Grinding
Normal face masks eventually get unworkable or leave you with headaches from breathing in your own exhaled breathe carbon dioxide. The built-up moisture gets unbearable and can affect how the mask works too.
With this AIR+ Active Ventilator, you'll no longer need to deal with these discomforts that usually come with prolonged protective face mask usage.
When you breathe in your own exhaled carbon dioxide for a long time, you can get dizzy, get headaches, and lose your optimal performance. This is just one of many drawbacks that come with face masks.
But you'll never need to deal with this again thanks to this revolutionary AIR+ Smart Mask that uses "protective mask technology"
Active Cooling
The mask itself is "ergonomically-engineered" to be literally, the first attachable active ventilator mask in the world. Inspired by Bionics in an attempt to mimic nature, the mask ends up working as it naturally should, by letting the humidity and CO2 exhaust air OUT, which then lets you inhale fresh, FILTERED AIR IN
This nature mimicking lets you breathe in cool and fresh air no matter the circumstance
The key is Air Flow. This is key to giving circulation assistance inside the mask
The active cooling benefit keeps your mask dry and helps you breathe better the entire time you wear this mask
Humidity is reduced by 40%
Temperature reduces by up to 4oC
CO2 levels internally are reduced to alleviate headache issues and dizziness that often come with working hard and wearing protective face masks
Rechargeable Active Ventilator
The Rechargeable APV (Smart Mask Active Ventilator) is also reusable.
Use it on your Disposable P2 Masks, and make each mask from the 10 pack last that much longer because it will remain dry. It lasts 4 to 6 hours with each charge! And it can be charged up in as little as 1.5 hours.
Need a quick boost during a break? The ventilator can be partially charged during breaks.
APV Fitting Instructions:
Open & Fit Air+ PP2 Disposable Particulate Mask with Exhalation Valve
Check how the mask fits
Attach AIR+ Active Ventilator by simply twisting the valve cap
Twist it anti-clockwise to remove it
Align the AIR+ opening with mask valve catch, twist clockwise to fasten securely.
Push and hold button to switch on the AIR+ Active Ventilator
Model APV:
CE approved
FCC approved
IP53 certified
Patent 2013097191
Internationally certified:
EN149:2001 + A1:2009
NIOSH P2 certified
AS/NZS 1716:2012 standards
ONLY FITS THE AIR+ SMART MASK ( SOLD SEPERATELY) | NON REFUNDABLE | NON RETURNABLE