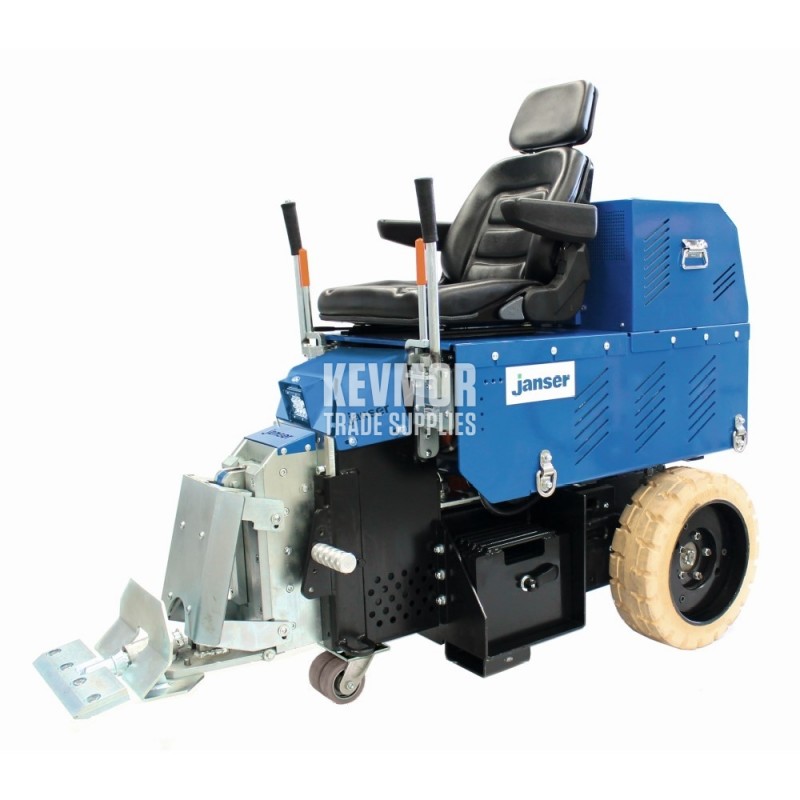  
Janser All Day Battery High-Speed Ride-On Floor Scraper (2023 Model)
FINANCE AVAILABLE
LATEST JANSER ALL DAY BATTERY MODEL (2023)
The Janser Ride-On ADB is the ultimate tool for heavy-duty floor scraping projects. The 2022 model features a powerful battery that allows you to work for hours without needing to stop for a charge. The high-speed motor ensures that you can efficiently remove even the most stubborn layers of flooring material with ease.
Powerful battery that lasts all day
High-speed motor for efficient scraping
Easy-to-use ride-on design
Durable construction for long-lasting use
Available now at Kevmor Trade Supplies in Perth, WA.
The 2023 Janser Ride-On ADB High-Speed Floor Stripper
PLEASE NOTE THAT DUE TO THE SIZE AND WEIGHT OF THIS MACHINE, IT IS NOT ELIGIBLE FOR FREE OVERNIGHT SHIPPING (APPROX. $1000).
The Janser ADB Ride-On Floor Scraper (2023 Model) is a versatile and powerful floor stripping machine with an advanced battery system that allows for uninterrupted operation throughout the workday, eliminating the need for constant battery changes or electrical cord assistance. Plus, its on-board charging system allows for easy plug-in to any outlet for convenient recharging.
High-Speed, All Day Battery (ADB) + Complete with Hydraulic Lift Control
Made in Germany. The Janser ADB is the newest generation of floor scrapers by JANSER Germany.
AVAILABLE AND IN-STOCK AT KEVMOR TRADE SUPPLIES
Designed to work all day without the need for frequent recharging or blade changes. The Janser ADB Floor Scraper operates quietly and without any gas exhaust. This makes it safe for use in any indoor setting. It's built with a robust construction and high-quality hydraulic control, ensuring a long lifespan and precise operation. The comfortable, adjustable seat and armrests make it easy to use for extended periods of time. Plus, the machine is almost maintenance-free thanks to its hydraulic technology. 
ADB JANSER RIDE ON FEATURES INCLUDE:
Battery management system with automatic switch-off
Quiet operation
No blade vibration
Securely installed charger
Comfortable, adjustable seat with armrests
REMOVE VARIOUS FLOORING TYPES:
Ceramic
Timber
Carpet tiles
Hardwood flooring
Concrete
Carpet
The most resilient floor coverings
WATCH THE JANSER ADB RIDE-ON IN ACTION:
MORE JANSER ADB RIDE-ON FLOOR STRIPPER FEATURE DETAILS
Run time of 8-12 hours and a charging time of 8-10 hours.
With a top speed of 61 m/min, this machine is able to cover a lot of ground quickly.
Measuring 1610 mm in length (without the blade holder), 760 mm in width, and 1130 mm in height, this ride on is compact and easy to maneuver. With the seat, the height increases to 1460 mm.
Total weight of the Janser All Day Battery Ride On Floor Scraper, including additional weights and the front angle plate, is 1180 kg (2600 lbs). Added weight allows for more efficient removal with wider blades or chisels.
Minimum weight for transport in elevators is 800 kg (1764 lbs).
Higher speed and increased weight gains you at least 30% more productivity compared to other models.
Hydraulic front angle plate allows for quick and precise modification of the tilt angle, ensuring a smooth and efficient cutting process.
The front-facing LED light allows for visibility in low light conditions, making it easier to operate the machine.
COMES COMPLETE WITH:
Tool Kit ( spanners and sockets)
12" 305mm blade holder
6" 150mm blade holder
2" /50mm carbide angled shank
12" /305mm x 76 x 1.6mm self-scoring spare blade
12"/300mm x .094 Heavy Duty Blade
8" /200mm x .094 Heavy Duty Blade
6" /150mm .094 Heavy Duty Blade
Front Wheel (Travel) Assembly
10m Charging cord (32' 10") for charger
Don't miss out on the opportunity to add this top-of-the-line floor scraper to your tool collection. Visit Kevmor Trade Supplies in Perth, WA or give us a call to order yours today. And remember, we offer price matching if you've found a better price elsewhere.
You might also like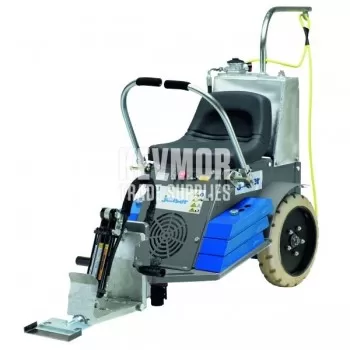 Instore or Phone Orders Only
Instore or Phone Orders Only