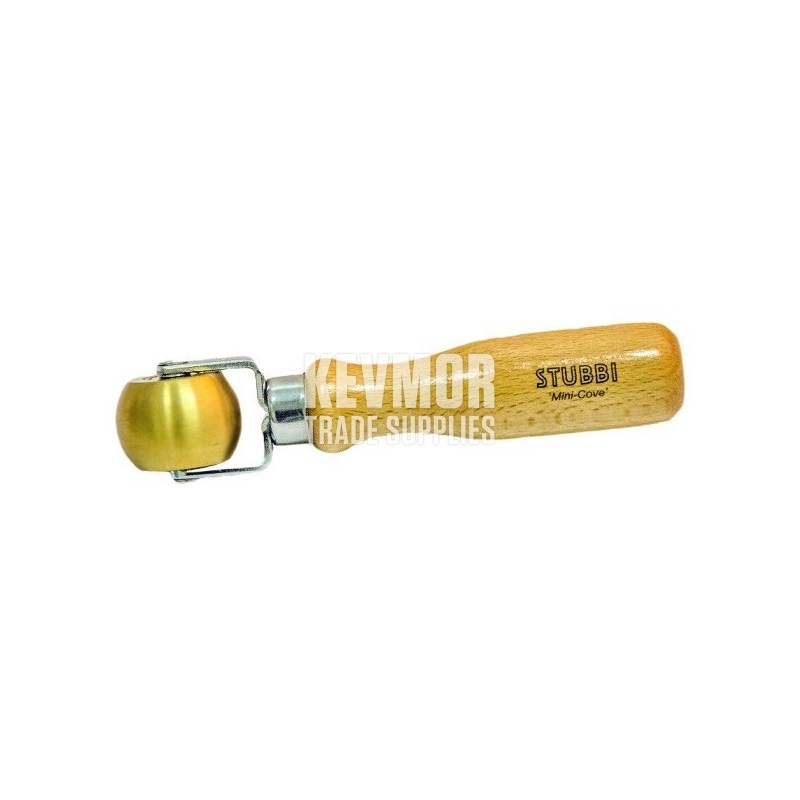  
Stubbi Mini 28mm Brass Cove Roller
GST excl.
($59.36 GST incl.)
Stubbi Mini Brass 28mm Cove Roller. Pressure roller to make your next cove installation easier.


Stubbi Mini 28mm Brass Cove Roller
Patented pressure roller, The Stubbi floor roller is used for rolling in your cove former/cove fillet 20mm edging.
This allows the perfect angle and adequate pressure to avoid any slippage or releasing of the cove from the wall.

Also avoids having to handle a wet cloth with heated vinyl as you can roll this onto the cove for the perfect clean finish of vinyl up the wall.
This will ensure:-

The vinyl floor covering is supported at its weakest point

It leaves no air space for bacteria to breed

It improves weldability in vertical heat sealed seams

Water-based contact adhesives are firmly pressurized and correctly crystallised for curing

The liability of movement is completely removed.
Features:
Time saving and Ease of use

Eliminates common install issues

Reduces the need for applied heat during installation

Preparation of cove fillet – pre-rolling of the cove fillet before floor coverings are installed

Installation – Lateral pressure rolling of the vinyl product onto cove fillet

Vertical rounded pressure point for wall seams and butterfly corners improving weldability

Continuous Lateral pressure rolling of vinyl skirting and wall vinyl seams

Double rounded edge eliminates pressure markings of traditional rollers

Shockproof Solid Beech Timber handle

Chrome-plated double steel fork improves accuracy and stability

Heavy 28 x 40mm Durable Deep Brass Orb ensures no contact of fork elements during rolling

High-quality smooth carrier bearings

Stylish and modern premium design made for the high quality and proud tradesman

Designed tough by long-serving installers in Australia's Northern Territory
Australian Designed

HOW TO:-

Follow the three easy steps today

1) Pre Roll - Rolling of coving strip into the adhesive at wall/floor juncture
2) Installation - Rolling of vinyl sheet product firmly onto cove former strip at the base level
3) Post Roll - Finishing rolling of installed vinyl product neatly into curvature and wall risers