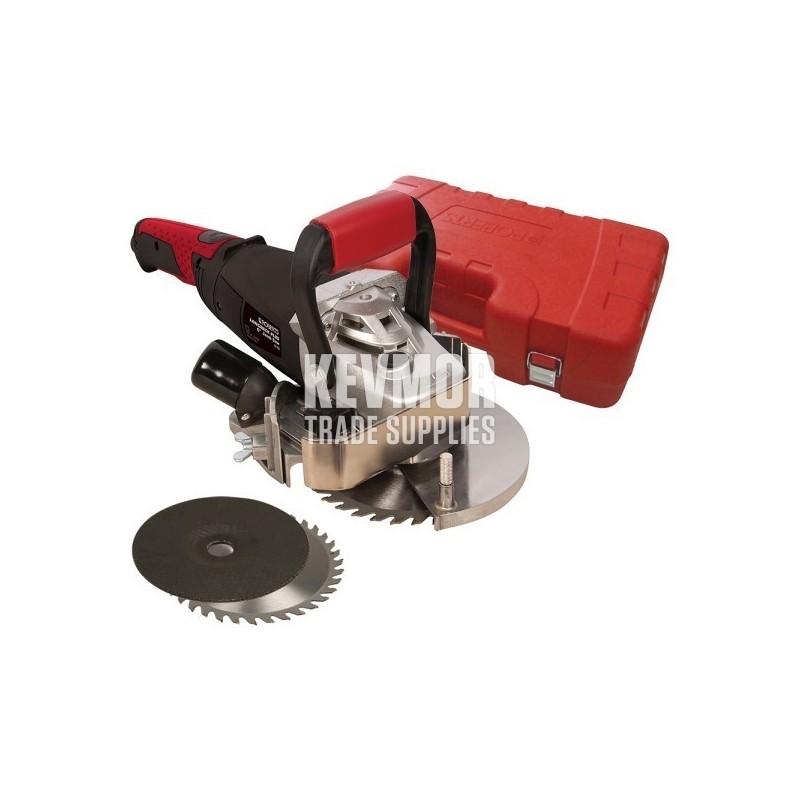  
Roberts 10-56AS Longneck Jamb Saw - Undercut saw with vac port
GST excl.
($687.50 GST incl.)
Roberts 10-56AS Longneck Undercut Jamb Saw with Vacuum Dust Port
Roberts 10-56AS Longneck Jamb Saw - Undercut
** Please note due to the weight and size of this product is not eligible for FREE overnight shipping.
This product can only be dispatched via road freight. Heavy Weight Item surcharge applicable. 
Powered by an 8000 RPM, 1050 watt motor, the Roberts 10-56AS Longneck Jamb Saw easily cuts door jambs, baseboard, cabinet toe kicks, inside corners and most hanging doors. The cutting height is easily adjustable from flush to 1-1/16" when working with a different floor covering thicknesses and the oversized flat base provides accurate, level cutting. The extended tail offers better control of the jamb saw and more leverage against torque. The trigger is located on the tail, enabling the trigger to easily be held in the ON position. The trigger is non-loading to comply with OSHA requirements.

  Extended 'tail' for maximum leverage against torque.

  Powerful, 1050 watt industrial grade power unit.

  Patented design enables the saw to cut full inside corners in moulding up to 1/2" thick.

  An adjustable cutting depth guide prevents cutting into plaster or wallboard when trimming base boards.

  Easy access trigger for better control.

  Precision height adjustment from 'flush' to 1-1/16th.

  Doors as thick as 1-3/4" can be undercut without removal.

  Includes 6-3/16" 36-tooth carbide tip blade and masonry blade.

  Custom moulded carrying case.
Specifications:

Item No: 10-56AS

Voltage: 230V-50Hz

AMPS: 9.5 (Industrial grade)

WATTS: 1100

RPM: 7500

Arbor: 5/8"

Blade Adapter: 20mm
Suits - Roberts 10-47 Undercut Jamb Saw Blade
Suits - Masonry Undercut Saw Blade Stone Cut Off Wheel

Suits - Roberts 10-55-22 Washer
Suits - Roberts 10-55-16 Blade Clamp & Screw
Sold to licensed installers only.