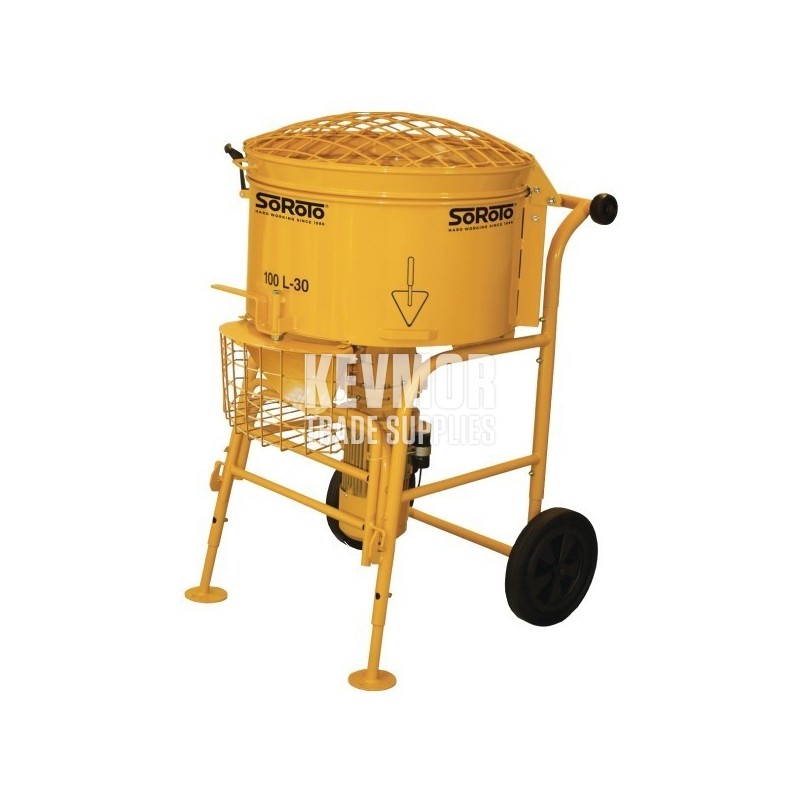  
Forced Action Screed Mixer 100-Litre
Forced Action Screed Mixer 100-Litre
Forced Action Screed Mixer 100-Litre
The 100 L Forced Action Mixer mixes just enough for two men to be kept occupied with flooring work, should you need that.
The SoRoTo 100 L mixes material quickly and homogenously, for e.g. grouting, flooring, concrete renovation and more.

The SoRoTo 100 L is easy to transport and to handle. It rolls through most doors and is avidly used on building grounds throughout the world - both outdoors and indoors.
Applications:
Removable mixer arms - makes cleaning easy - no need for tools.

By tipping the mixer it can easily be loaded onto a car by means of small wheels.

Easily adjustable telescopic legs for discharge into bucket or wheelbarrow.

After 3-5 minutes the perfect mix is discharged through the mixer gate at bottom of the drum.

The grid lid is mounted on hinges and equipped with an automatic mechanical switch to meet safety regulations.

Rubber strap secures the grid lid during transportation.

In case of wear you only need to change one mixer arm if the others are alright.
| | |
| --- | --- |
| Drum Capacity | 106 L |
| Mixing Capacity | 100 L |
| Width/Length | 68/80 cm |
| Height | 109-127 cm |
| Motor | 240 V / 110V |
| RPM | 30 |
| Output | 1.1 kW |
| Standard blades | steel |
| Weight | 98 kg |