Kevmor is Business as Usual, Australia wide Delivery OK, Drive Through Now Available in Perth
Free Next Day Delivery Australia Wide*
Leister Cordless Groover 500-LP - Battery Operated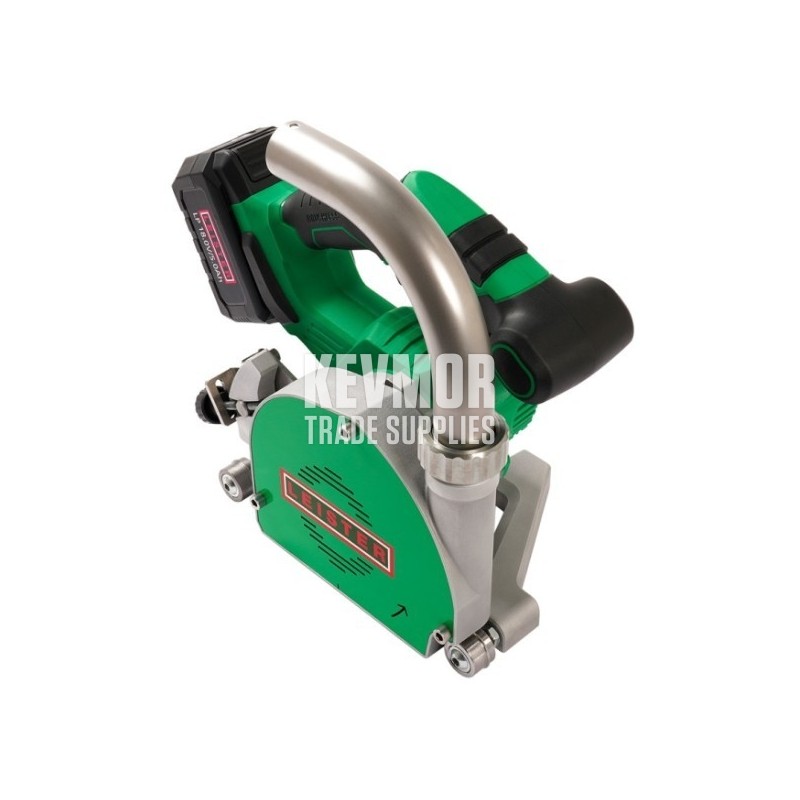 View larger
Found a better price? We'll match any competitors advertised price.
Contact Us
$3,250.00 GST excl.
$3,575.00 GST incl.
Website price only AUD
Leister 500-LP Cordless Groover
Making the installation of commercial sheet vinyl easier! No more messy, tangled cords or searching for power supply on your job site. Welding sheet vinyl just became easier.
500LP
All Products in Stock in Australia
Free Delivery Australia Wide*
Customer ratings and reviews
Leister Cordless Groover 500-LP #groover
Introducing the Leister's NEW Cordless Groover 500-LP.

This cordless groover uses a general-purpose milling cutter to mill grooves for weld seams and grouts when laying resilient floorcoverings (PVC, PE, PUR) and natural materials (rubber, linoleum).
The cordless drive eliminates the needs to search for an outlet and the need to carry cables/extension leads.
In addition, it makes switching from one room to another uncomplicated and much quicker.
This groover is equipped with two, rapid charging batteries that provide virtually no downtime, enabling the fastest and most efficient installation.

Grooving on even or uneven floors made from plastic or natural materials, close to the edge or along a guide rail is done with ease thanks to Leister's cordless grooving machine, GROOVER 500-LP.
No more messy, tangled cords or tedious searching for electric power sockets on the job site.

Your GROOVER 500-LP lets you switch from one room to another in no time.
Cordless, powerful, reliable - that's your GROOVER 500-LP.
The Groover 500-LP is suited for a variety of small and large floor covering surfaces such as schools, nurseries, childcare, hospitals, gymnasiums and other public buildings.
The sensing roller is designed to maintain a constant groove depth (selectable depth range 0-6mm or 0-0.236in) on both even and uneven floors.
The practical side stop enables grooving along a guide rail and the angled dust tube allows the machine to cut grooves along walls and other objects as close as 25mm.

- Cordless, battery operation with maximum flexibility
- General-purpose milling blade for plastic and natural floor coverings
- LED light to illuminate the grooving area
- Sensing roller for reliable grooving, even on uneven floors
- Side stop for grooving along rails
- Three-point stand, enabling increased stability
- Adjustable side roller for reliable grooving on pimpled floor coverings
- Optimized rear guide roller for precise positioning
- Vacuum cleaner adapter allows connecting the Groover to a dust collector.


Groover 500-LP, 230 V, Universal tungsten carbide tipped blade, ø 130 x 3.5 mm, T12, parabolic profile, with plug



Included with Grooving machine purchase:
Other blades are available:
PCD cutter blade - Tooth Profile Conical (6 teeth) Poly Crystalline Diamond-tipped blade, ø 130 x 3.5 mm 167.024

Tungsten Carbide cutter blade - Tooth Profile, Parabolic (12 teeth) universal tungsten carbide tipped blade, ø 130 x 2.8 mm 167.025

Tungsten Carbide cutter blade - Tooth Profile, Parabolic (12 teeth) 130 x 3.5 mm 167.026


When cutting grooves in safety floor coverings, we recommend using a PCD cutter blade.

Article No. *167.451*

Attribute

Unit
Value

Battery voltage

V
18

Battery capacity Li-Ion

Ah
5.0

Charger voltage

V~
230

Cutting speed

rpm
5000

Blade diameter

mm
130

Groove depth adjustment

mm
0 - 6, infinitely variable

Size (L × B × H)

mm
445 × 212 × 336

Weight (incl. dustbag)

kg
5.5

Conformity mark

Protection class II

#Leister #cordless #groover #lesiter #cordlessgrover #welding #commercialflooring #kevmor #commercialinstallation #battery #unevenfloors #LEDLIGHT #construction
Great Price
Guarantee
All Products in
Stock in Australia
Free Delivery
Australia Wide*
Locally owned &
operated for 39 years