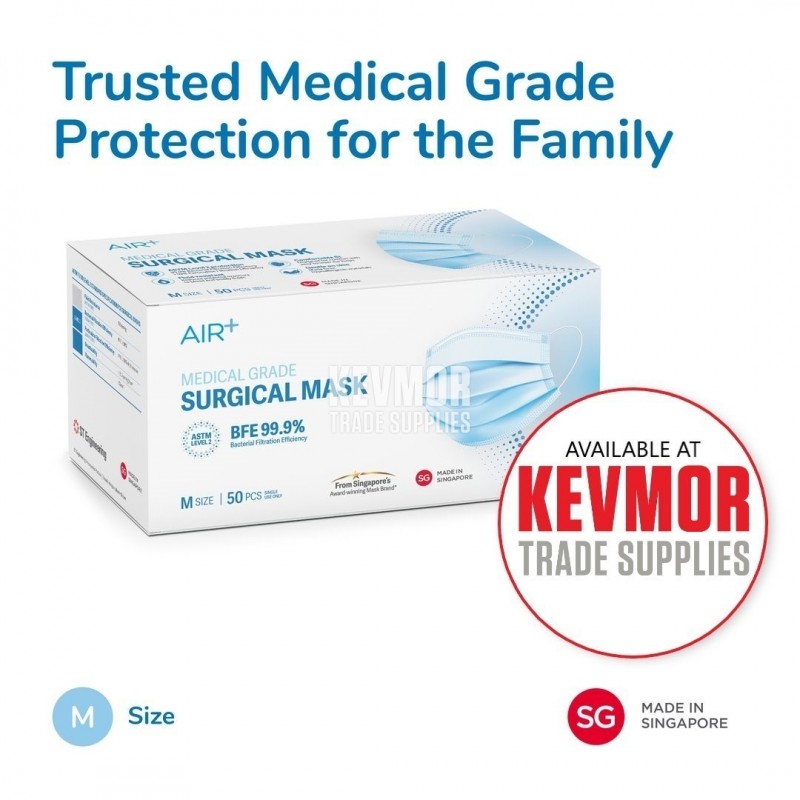  
Air+ Surgical Face Masks - Medium
GST excl.
($21.95 GST incl.)
Air+ Surgical Face Masks - Medium (50 pack)

Air+ Surgical Face Masks - Medium (50 pack)
Due to health regulations, we are unable to accept the return of masks and/or fan products unless proven faulty

Medium Mask Dimension
145mm (width) x 95mm (height)

Recommended Use
Adults & Children aged 8 years & over

ASTM Level 2 for medical grade protection
99.9% Bacterial Filtration Efficiency / 98% Particulate Filtration Efficiency

Fluid-resistant
Reduces potential exposure to blood and bodily fluids

Comfortable fit
Designed for comfort with easy-to-wear ear loops

Gentle on skin
Made from hypoallergenic materials

Absorbent inner layer
Fluid-absorbent layer traps moisture and respiratory emissions.

About ASTM
ASTM International is a standards organization that sets the best practices and international standard for global industries, including testing and requirements for performance of materials in healthcare. At ASTM Level 2, the AIR+ Surgical Mask is rated for medical use and protection against light to moderate exposure to aerosols, spray and fluids.

MADE IN SINGAPORE

For single use only. Replace with a new mask once mask is damp or dirty.