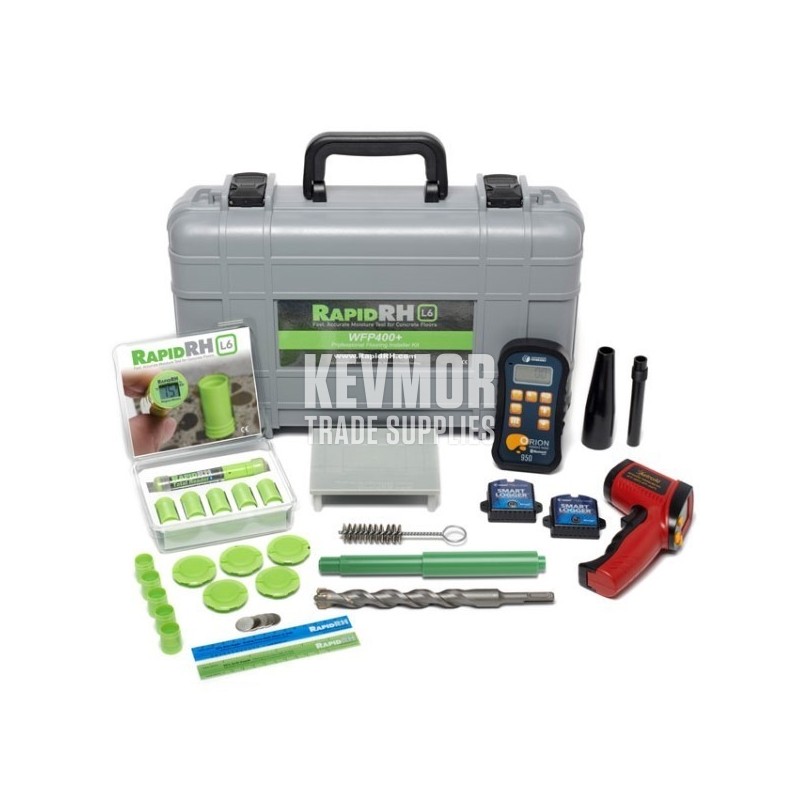  
Wagner RapidRH L6 WFP400+ Professional Installer Kit
GST excl.
($1,980.00 GST incl.)
Wagner RapidRH L6 WFP400+ Professional Flooring Installer Kit
PLEASE NOTE DUE TO THE WEIGHT AND/OR SIZE OF THIS PRODUCT IS NOT ELIGIBLE FOR FREE OVERNIGHT SHIPPING
Your smart device will detect any Wagner Meters wireless device that features Bluetooth connectivity such as the Smart Logger or Orion 950 Smart Pinless Wood Moisture Meter, and perform the pairing procedure automatically. There is nothing you need to do, the devices do the work for you.
The WFP400+ Rapid RH® L6 Professional Flooring Installer Kit provides everything you need for fast, accurate moisture testing of concrete, wood, and other wood building materials.
The Orion® 950 Moisture Meter, with its pinless design and protective rubber boot, quickly and easily takes moisture readings without damaging wood floors.
The Rapid RH Smart Sensors and Total Reader® enable fast, accurate RH and temperature readings from both the concrete slab and the ambient air.
The improved protective caps completely cover the test hole and seal it with a butyl rubber gasket. The integral access cover pulls off for quick access to the Smart Sensor and snaps back on to seal out water and dirt.
The Smart Logger™ automatically records ambient RH and temperature readings on-site while you're away. Download readings from the Smart Logger using the free Smart Logger app and any Bluetooth®-enabled mobile device.
Each Smart Sensor pack comes with a NIST-traceable calibration certificate and comes in tamper-resistant packaging to ensure perfectly calibrated, genuine Wagner Smart Sensors.
The WFP400+ – Professional Flooring Installer Package includes:
Orion 950 Dual Depth Pinless Moisture Meter with Rubber Boot
On-Demand Calibrator for the Orion Meter
Infrared (IR) Thermometer
Rugged Hard-shell ABS Carrying Case with Foam-padded Interior
Rapid RH Starter Kit:
5 ea. L6 Smart Sensors
2 ea. Smart Logger Ambient RH and Temperature Recorders
10 ea. Sleeve Extensions
5 ea. Protective Caps with Butyl Rubber Seal and Integral Access Cover
5 ea. Stainless Steel Covers
1 ea. Total Reader with Bluetooth
1 ea. Insertion Tool
¾" inch SDS Masonry Drill Bit
Wire Cleaning Brush
Vacuum Attachment
Certificate of Calibration
Floor Map
Instruction Manual
One CR1/3N Battery for the Total Reader
Rapid RH® L6 sensors feature a customized version of the SHT35 humidity sensor from Sensirion that has a +/-2% accuracy tolerance at 50% and 90% relative humidity (RH). This important aspect of the L6 concrete RH testing system puts it in direct compliance with ASTM F2170. Standard SHT35 humidity sensors, found in other concrete RH test systems, start to deviate from the +/-2% tolerance at RH levels as low as 50%.
The WFP400+  Professional Flooring Installer Package from Wagner Meters' Flooring Division provides everything you need for accurate moisture testing on concrete or wood floors, with relative readings available for other building materials.
With the damage-free, easy-to-use technology of the Orion 950 Smart Pinless Wood Moisture Meter, the Smart Loggers and the Rapid RH® Total Reader with Bluetooth, monitoring moisture content has never been simpler or more reliable. Along with the DataMaster and Smart Logger app's, reporting and analysis on each concrete job site.
Wagner RapidRH L6 Moisture Testing System complies with the latest flooring industry standards, including ASTM F2170-11, AS1884:2021 and AS2455.