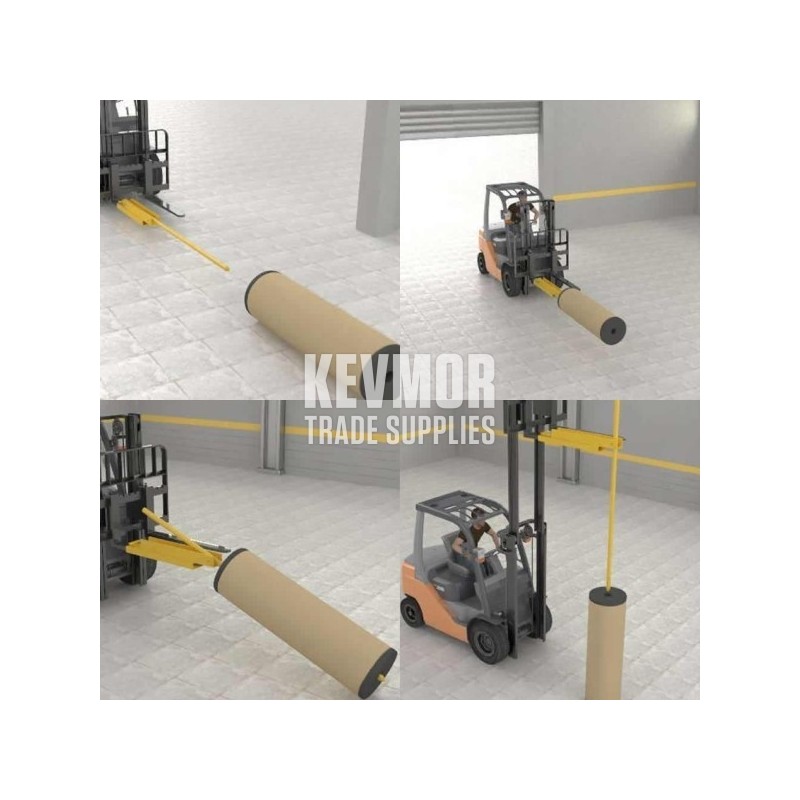  
Rolled Goods Manipulator (RGM) - RGM-900NC (no cable release)
GST excl.
($2,854.50 GST incl.)
Rolled Goods Manipulator (RGM) - RGM-900NC (no cable release)
Rolled Goods Manipulator (RGM) - RGM-900NC (no cable release)
PLEASE NOTE DUE TO THE WEIGHT AND/OR SIZE OF THIS PRODUCT IS NOT ELIGIBLE FOR FREE OVERNIGHT SHIPPING ($250)
Forklift attachment for easily moving heavy rolled materials such as sheet vinyl or carpet
Allows flooring rolls to be picked up, moved, and placed in an upright position for storage with ease
Utilizes an elongated rod to firmly secure rolled materials while transporting
Maintains & improves warehouse safety ensuring rolled items can be moved independently
Limits injury risk while improving employee productivity
Stores easily, 8'6" long and under 55kg
Can lift up to 340kg
What is a RGM ?
A RGM or Rolled Goods Manipulator is a forklift attachment for lifting heavy rolled materials like sheet vinyl and carpet. This NEW invention is used to replace your traditional carpet poles! The RGM can lift flooring products from a horizontal to a vertical position & vice-versa. Can work with any heavy rolled goods! With a 340kg weight capacity this device eliminates the risk of injury to an employee who would otherwise lift the material up by hand. It's also much more efficient than standard carpet or vinyl poles.
Solution to common problems
Storing or transporting heavy rolled items such as sheet vinyl can be very difficult due to weight & size. Usually the rolled item is moved around the warehouse manually with vinyl dollies or by a carpet pole. Both methods require manual lifting which raises safety issues with employees. This process is not efficient or a cost effective way to move such items. ​With the RGM, you can save time and money with only one employee needed!
Ideal Applications:
Marine Carpet
Artificial Turf
Sheet Vinyl
Carpet
Turf rolls
Sports floor
Paper rolls
Pretty much any rolled goods!
How it works ?
The RGM includes a mounting sleeve configured to slide over the forklift forks. An elongated rod extends parallel from the mounting sleeve and can be positioned adjacent to the forks. The locking pin is then used to hold the rod in position while securing the materials. The forks can be raised to lift the roll and transport it to a desired location. Horizontal to vertical, and back!