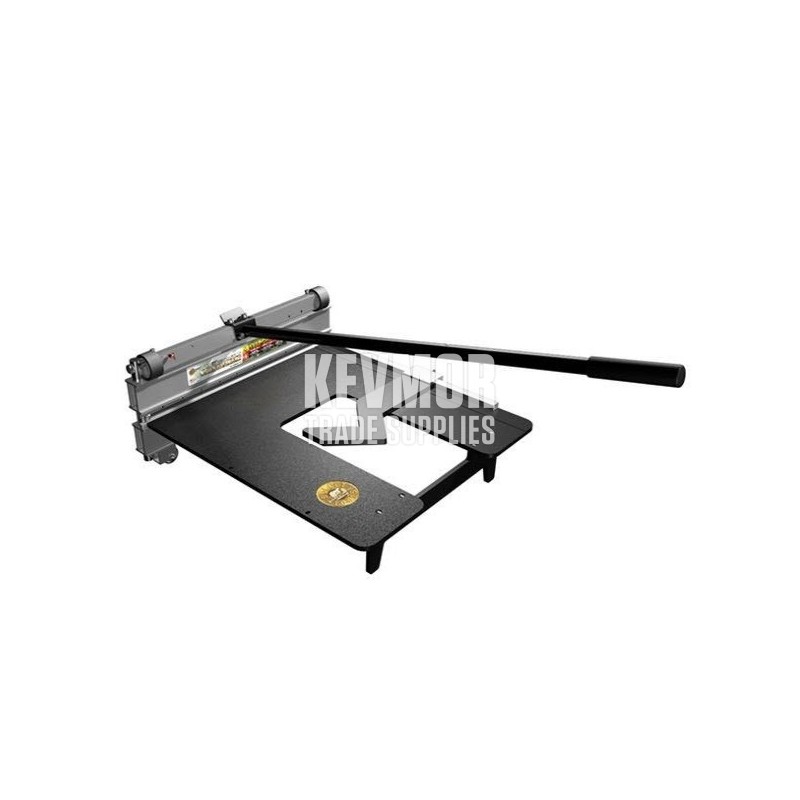  
Bullet Tools RCT 51cm /20" Magnum Shear Guillotine - Carpet & Vinyl Tile Cutter Soft/ Resilient Shear - 520
Bullet Tools RCT 51cm /20" Magnum Guillotine Shear - Carpet & Vinyl Tile Cutter Soft/ Resilient Shear - 520
DISCONTINUED
Bullet Tools RCT 51cm /20" Magnum Shear - Carpet & Vinyl Tile Cutter Soft/ Resilient Shear - 520
This 20" cutter is our smallest, lightest RCT, designed for cutting "soft tile" products, including vinyl tile, carpet tile, resilient tile, and more!
Get the versatility you need! The NEW RCT Magnum Shears are specifically developed for cutting design tile, carpet tile, luxury vinyl tile, rubber, cork and most other Vinyl/PVC-based products. A solid steel blade produces a factory edge on most types of soft flooring products. The RCT Magnum Shears feature a unique Precision Square Technology Fence that can be easily squared (or slightly off-squared) to the blade to make the accurate cuts you need in every situation. The RCT Magnum Shears also include a Wall Gauge System which automatically measures the length of your cut when you set the machine at the edge of your last tile, an innovative Angle Guide with a Precision Ruler which allow for exact measurement on both 90-degree and 45-degree angle cuts, and a unique castor system that allows the machine to roll parallel to the wall.
Quickly cut luxury vinyl tile, carpet tile, resilient, cork, and rubber tile, and more for your soft flooring installation projects.
Features:
Cut factory clean edges on carpet tile

Fast – self-measuring wall gauge caster system

Portable – smooth rollers for transportation on job site

Precise – Cut within 1/16 in. (1.5875mm)

Blade lasts up to 10,000 cuts

Built-in ruler and adjustable fence for 45° (up to 14 in. or 355.6mm wide) and 90° cuts

5-Year Warranty

Made in the USA
Cuts:
Maximum thickness of 15mm or 5/8 in.
Luxury Vinyl Tile

Design Tile

Carpet Tile

Vinyl Composite Tile (VCT)

Sporting Event Tile

Ice Rink Tile

Rubber Tile (even Recycled Tires)

Cork Tile

Composite Stone Tile

Leather Tile
Specifications:
Cut Width: Up to 20 in. (50cm)

Cut Depth: Up to 7/16 in. (12mm)

45° Angle Cut: On 14 in. (35cm) wide product

Weight: 22lbs/10kg

Cut Width: Up to 20inches/50cm

Cut Depth: Up to 7/16inch/12mm

45° Angle Cut: On 12inch/30cm wide product

Weight: 22lbs/10kg
Features:
Fixed Fence for straight cuts

Locking Angle Guide for 45° cuts

Easy to use Safety Lock

Hone Stone
Related products
Instore or Phone Orders Only