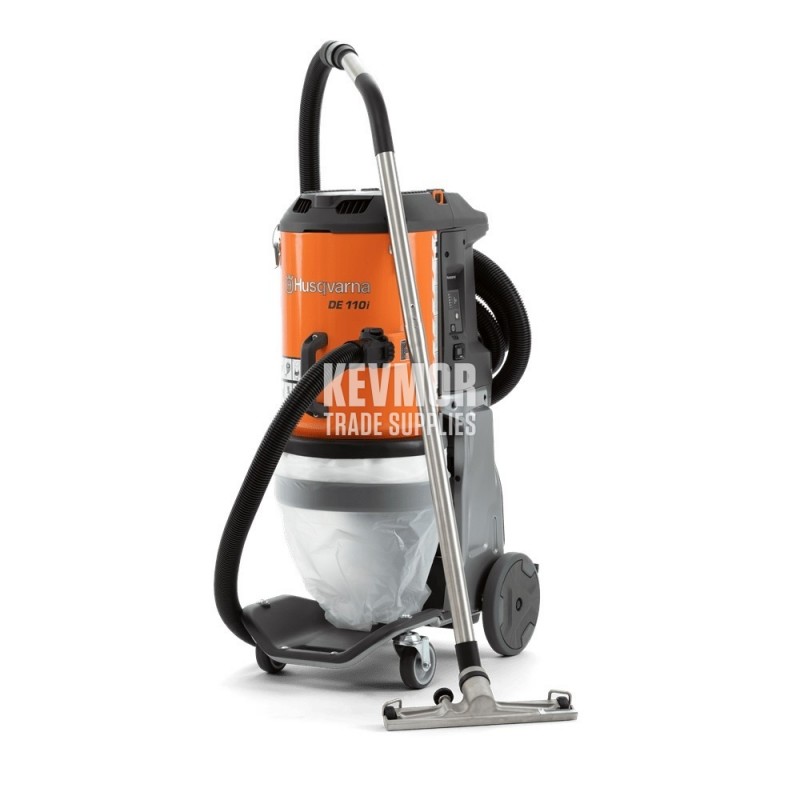  
Husqvarna DE 110i (36V Battery System) Dust Collector
GST excl.
($2,408.56 GST incl.)
Husqvarna DE 110i (36V Battery System) Dust Collector
This adaptable H-class dust extractor is a great match for portable battery equipment and is powered by Husqvarna's own 36 V BLi batteries. It has an easy-to-use HMI and an e-flow function that regulates the air flow automatically while guaranteeing long battery life. Due to its strong water protection, decontamination can be done quickly and effectively. Additionally, it has inbuilt connection, which enables you to quickly track the status of your location, services, and filters as well as other important usage information.
Flexible battery power
You have autonomy and freedom with this dust extractor that runs on batteries. Don't bother about wires or power sources on the job site. The clever e-flow system, which automatically regulates air flow, maximises battery run life.
High safety standards
The dust extractor complies with the most recent H-class specifications for heavy-duty dust extractors. It has a HEPA filter inside that is separate from the pre-filter and has EN1822 certification. When it's time to clean the filter, an integrated filter alarm with an adjustable hose diameter signals this. Simply clicking a button will start the cleaning process.
Easy to transport
The dust extractor is portable due to its small size and light weight. Smooth manoeuvring is made possible by clever aspects like lifting hooks, the ability to attach hoses, a wand, and a floor tool to the machine, as well as the ability to move it on its two wheels.
Easy to clean and maintain
The machine may be cleaned and decontaminated with ease thanks to the high water protection standard. For early and on-site troubleshooting during operational maintenance, the HMI issues warnings.
The easy-to-use, Longopac® attachment system and a V-shaped tray ensures easy mounting. Due to the special plead-cover, no dust gathers in the folds.
Max. vacuum: 170 mbar
Rated input power: 0.9 kW
Product size length: 670 mm
Product size width: 400 mm
Product size height: 1000 mm
Weight: 26 kg
(Battery and battery charger sold separately)