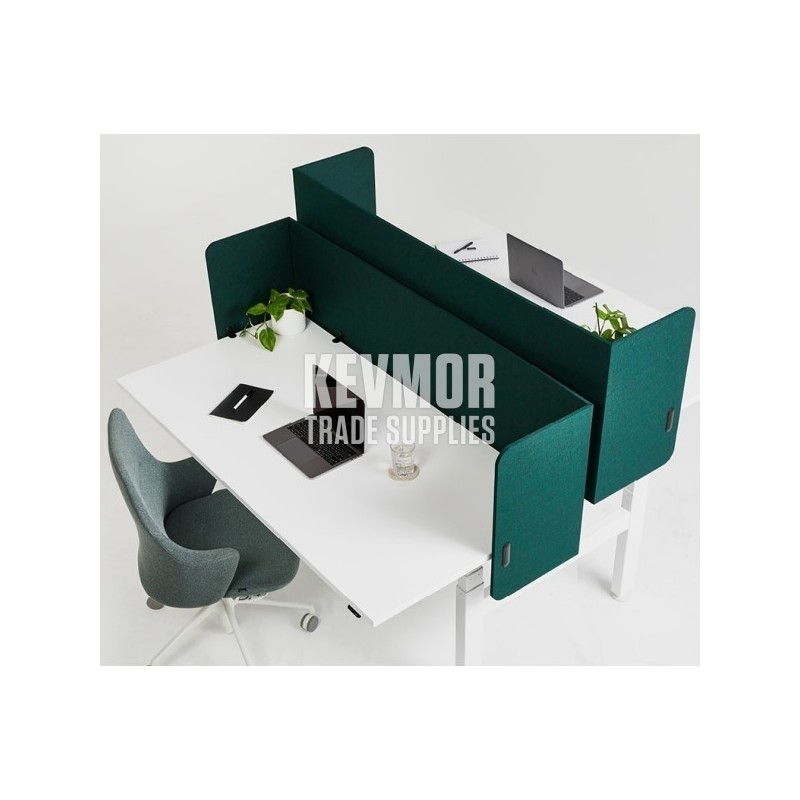  
Vicinity ™ Desk Screen
Vicinity Desk Screens are truly acoustic, absorbing sound across the frequency spectrum. This allows distracting chatter and background noise to be controlled at the source, supporting the overall acoustic balance of your space. Through constructing separate working zones and a visual sense of division, Vicinity Desk Screens help support social distancing in the workplace.

As every office is different, customisation is important. Vicinity Desk Clamps are designed to fit any desk, and are easily moved and fixed without damaging or altering the desk – offering the freedom to quickly rearrange when required. With eight sleek design options, and a range of contemporary colours, Desk Screens will effortlessly complement any workspace. However, if you have a specific design in mind, our in-house design team can work with you to create a bespoke piece.

Simple, truly acoustic, and easily customisable, Vicinity Desk Screens are the perfect acoustic solution for the modern workspace or home office.


Key Features and Benefits:
Delivers excellent acoustic performance

Easily customisable; flat screens can be customised in colour, size, shape, and thickness to fit your design aesthetic

Customisation options for pressed screens include bespoke embossed patterns, custom colours, and custom shapes

Vicinity Desk Clamps are non-destructive, easy to use, and fit a variety of desk sizes

Solid colour and smooth finish, with no capping required

Highly durable, providing long-term stability and performance

Perfect for open-plan workspaces
Key specifications
Sabin: Varies by design, refer to datasheet

Composition: Screen: 100% polyester (PET) Clamp: die-cast zinc

Size: 12 mm

Product Placement: Screens

Install method: Clamp to desk

Application: Open Plan Offices, Commercial/Office Space, Residential