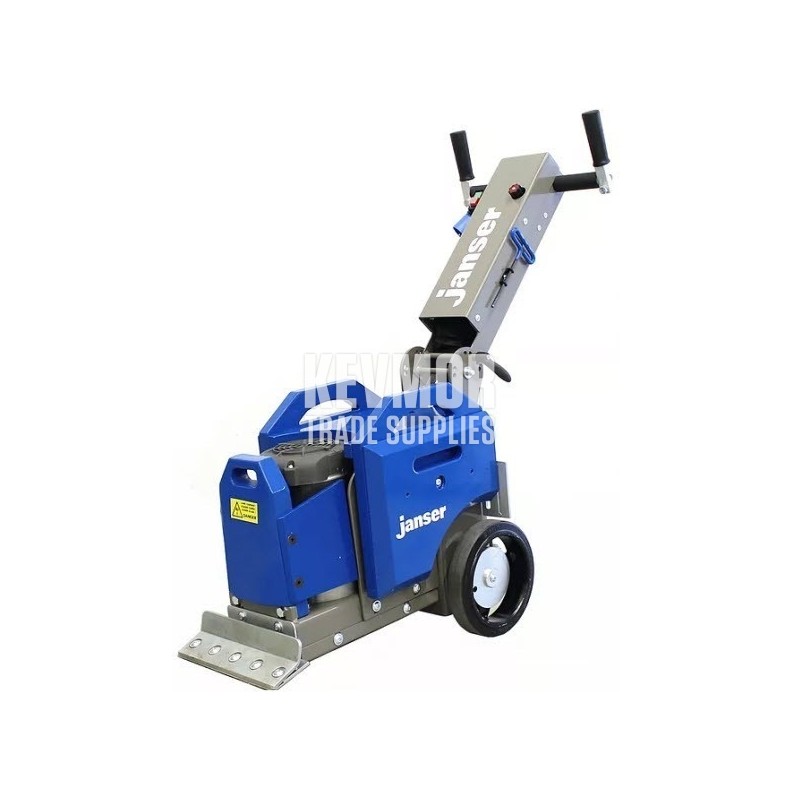  
Janser Strato Mobil IV
Janser Strato Mobil IV
The new heavy-weight class of the hydraulic walk-behind scraper machine
190 kg well distributed at a maximum speed of 17 m/min. The powerful motor combined with the new HYDRAULICDIRECT-DRIVE system ensures high output at a very low noise level. The STRATO-MOBIL IV is self-propelled (forward and reverse) with adjustable speed control.

**CALL FOR COMPETITIVE PRICING
Janser Strato Mobil IV
The new heavy-weight class of the hydraulic walk-behind scraper machine.
190 kg well distributed at a maximum speed of 17 m/min
The powerful motor combined with the new HYDRAULICDIRECT-DRIVE system ensures high
output at a very low noise level.
The STRATO-MOBIL IV is self-propelled (forward and reverse) with adjustable speed control.
Unparalleled performance is achieved by the high torque motor.
Adjustable guide handle in six positions allows ergonomic operation depending
on body size or preferred working position.
Weights can be easily removed for transportation, reducing the net weight of the machine.
New and improved model - Introducing The Janser Strato Mobil IV features more torque for those tougher jobs, i.e. Timbers, Ceramics.

Has adjustable guide handle - so can be adjusted to suit working conditions/ size of the operator

Weights are easily removed, this together with a "flat" handle position that can be achieved, makes transportation so much easier!

Forward and Reverse

NEW - Wheel hubs with freewheel option for easy handling and easy pushing of the machine without power.

NEW - Variable speed control.

Supplied with 5 different blade profiles - used accordingly depending on the material to be removed

Total machine weight: 180kg

Net Weight: TBC

Machine available in 240V
Power supply: 230 V
Speed infinitely
variable: 0-17 m/min.
Net weight: 85 kg (187 lbs)
Total weight: 190 kg (419 lbs)
Price does not include delivery.
Please note:- Pricing above is final.
Welcome offer and further discounts are not available /applicable on the above pricing.